Company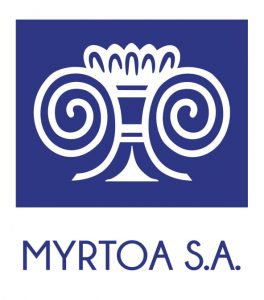 MYRTOA S.A. Agricultural development & Tourism business
"MONTOFOLI WINE ESTATE"
Address: Montofoli Estate, Palaia Chora, Karystos, GR 34001
T: +30 22240 23951
E: info@montofoli.gr
S: www.montofoliwineestate.com
Registered in Greece (G.E.MI.) no. 04613392200
VAT no: EL 094127951
Touristic operation is licensed by the Greek National Tourism Organization, Reg.no. (ΕSL):
1062502
Company profile:
MYRTOA S.A. is a Share Company established in 1986 for agricultural development and
tourism business.
Partnership: Family-owned company
Business Management:
President & Managing Director: Alkmini P. Karakosta
Operations Manager: Nikolaos V. Chairetakis
Legal notices:
Πρόσκληση Γενικής Συνέλευσης 2021
Company statement:
The property was bought in 1986 by Pavlos G. Karakostas who founded MYRTOA S.A with the
aim to restore the historical buildings, which had fallen into ruin, and to exploit the land.
Main activities:
Production
The 4 acres vineyard develops on terraces that provide excellent drainage. The Greek
sun and the estate's microclimate produce the excellent Sweet Wine ''MONTOFOLI''.
Under the brand of the iconic ''Montofoli Estate'', MYRTOA S.A. trades high-quality dessert
and table wines, traditional marmalade, artisan handmade chocolate, olive oil and citrus
fruit.
Hospitality
The estate's villas with their simple, effortless charm, offer a unique experience of
timelessness on a landmark of cultural heritage.
The location appeals to discerning travelers looking for the perfect secret hideaway and a
place to restore their spirit. Our philosophy is to provide authentic hospitality and create an
unforgettable experience for our guests.
Our Vision:
With respect to the history and nature we strive to emphasize and share the spirit of the
estate's heritage. Our aim is to administrate this respected company and to persist with
passion and innovation towards the next generations.
Contact us for more details