Montofoli Wine Estate is located in the ancient town of Karystos on the southern coast of Evia, the second largest of the Greek islands.
Discover a hidden Paradise
Montofoli Estate is a remarkable point of reference of Karystia, South Evia. Situated midway between the port and the Venetian fortress "Castello Rosso" on top of the homonymous hill, the estate has a panoramic view over the bay and provides a graceful balance between the affluence from its rich land and the dominance over the valley. Roman, Frank, Venetian and Ottoman rulers have highlighted this landmark throughout its' history and pointed out its timelessness and exceptional energy.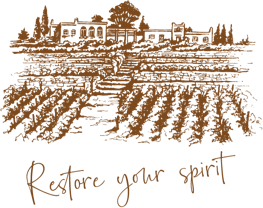 Experience
Montofoli Estate is famous for its uncommon, effervescent ambience that provides a sense of belonging, which can only be experienced on site. Enjoying a stay in one of the villas within the estate is a once-in-a-lifetime experience that guests treasure for years to come.
The Villas
Each villa has its own charm with distinct accommodation, combining real comfort with a sense of luxury. Complemented by verandas and quiet spaces for relaxation, all villas have splendid views of both mountain and sea.
Villa Amfithea
Amfithea is the newest restored villa on Montofoli Wine Estate. It was built on the ruins of a warehouse; It has been reconstructed into a modern house and stresses the estates' heritage in which the past is linked with the present.
The Belvedere
Belvedere is a charming villa, built on a dominant spot on the estate with a contemporary outlook and respect to the local architecture of the middle of the 20th century.
The Red House
The Red House is a classical villa representative of the Greek architecture of the late 19th century. The restoration has preserved the building, a landmark of the estates' heritage, combining comfort with a sense of luxury.