Cavo D'Oro Villages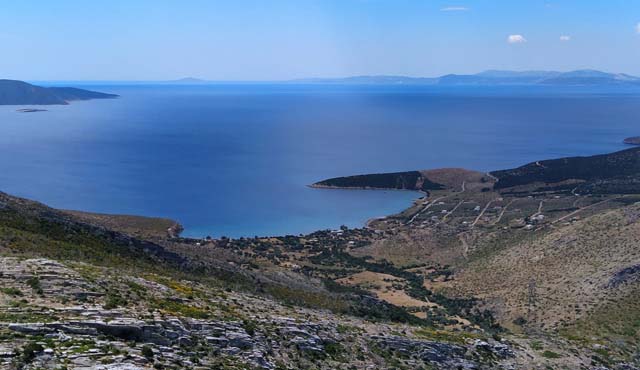 The Kafireas villages and settlements clinging on the slopes of Mt. Ochi are: Kastri, Platanistos, Epanochori, Potami, Andia, Komito, Evangelismos, Drimonari, Thimio, Zacharia, Amygdalia, Schizali and Prinia. Most of the villages of Cavo D'Oro are built at a high altitude, away from the steep shoreline, in lush valleys and close to grazing land.
The nature of South Evia around Cavo D'Oro, resembles that of the Cycladic islands; dry, wild and windy. However, strolling around you will find that nature is flourishing green; fresh water from the mountain, deep shadowed gullies and vegetation of plane trees, oak trees and olive groves alternate with vast naked heaths. On the seafront, rocky cliffs embrace a dozen of beaches in the arms of the Aegean Sea.
An excursion to the remote villages of Cavo D'Oro is literally a journey back in time, they keep their natural beauty well-hidden. The few residents are engaged in agriculture, honey production and grazing goats. Enjoy the hospitality of the inhabitants, taste delicious dishes and flavours from the local cuisine.