Dimossaris River Gorge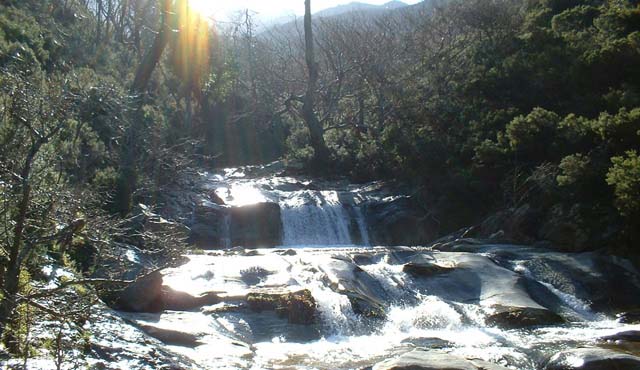 Karystos offers a unique destination for hikers: Dimosari gorge, on the northeast side of Mount Ochi is one of the most beautiful hiking gorges in Greece and one of the most famous ecological sites in Evia.
The gorge is included in the Protected Area (Natura 2000) and the name refers to the small, brisk stream "Dimosari". The watercourse through rocky ravines, small waterfalls, rapids and narrow valleys reaches the Aegean Sea. The route is about 10 kilometers long. A cobbled path starts from the''Petrokannalo''col, at 954 m altitude, which follows the stream and ends up at the beautiful beach of Kallianos after 4 – 5 hours of hiking. The path is formidable and much of it is under the shadow of perennial plane trees but also wild olive trees, pear trees and large oak trees. The sound of running water, the birds' warble, the lush green slopes and the ever-changing landscape make a peaceful atmosphere for the walker. The stream's natural pools are ideal for refreshing dives in summer. Further down, halfways, you will come across the settlement Lenosaioi. From there on, the route to the sea is milder. You can end your hike at the beach with a cool dip in the clear blue water of the Aegean Sea.
The gorges' path has been used since ancient times, connecting the Kallianos area and the rest of the villages of Cavo D'Oro with Karystos.