On Montofoli Wine Estate our dream is to convey to all our guests the beauty of our rich Greek heritage. Our country is overwhelmingly full of myth and history. The best way for us to carry on the Greek heritage across our borders is for our guests to experience it during their stay – be it long or short – on the Estate.
To embrace larger aspects of this legacy we choose collaborators who share our values and excel in their field. With that in mind we chose the Ancient Greek patterns of Co-mati – A Piece of Greece to dress our cushions underlining the long productive history of the Estate.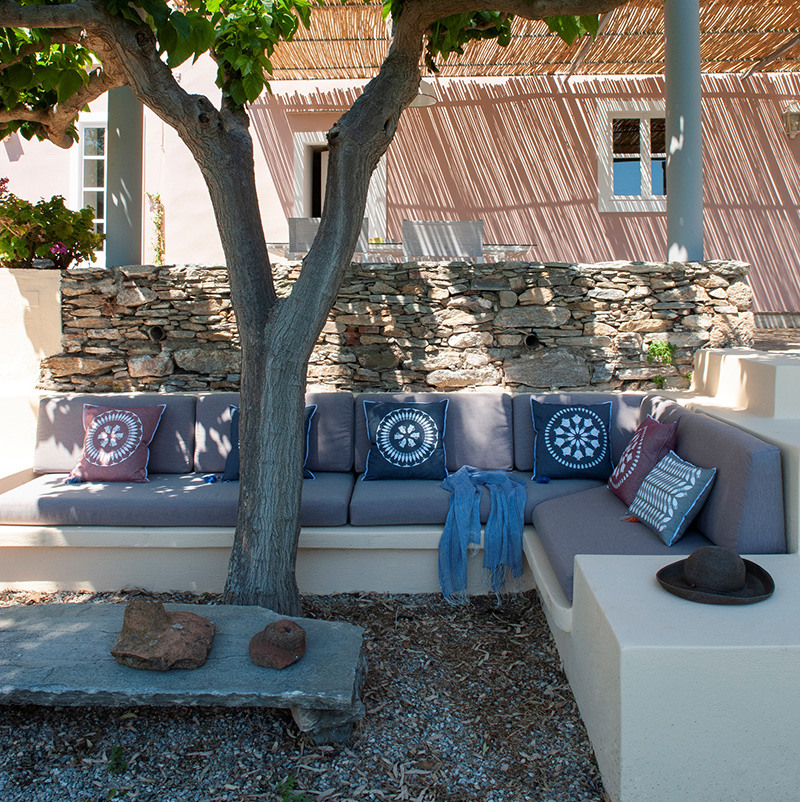 Co-mati – A Piece of Greece produce handmade souvenirs seeking inspiration in the Greek culture and Greek symbols. Dimitra Golfomitsou and Marga Michalopoulou – co-founders of Co-mati – A Piece of Greece – add value to an ephemeral object and create distinctive cushions, bags, deco items, and placemats that stand against the anonymity of the mass souvenirs' production. Dimitra drew on her experience as an industrial designer and has come up with original patterns that are hand silkscreen printed on cotton canvases and velvet fabrics. Marga is experimenting with cotton ropes, yarns, threads, and bespoke ceramic beads and creates unique bags handles, tassels and decorations for the cushions. Their aim is to give the crafter's touch to each and every piece of their collection. Looking back to the Greek heritage they try to bring it smoothly into present aesthetic demands.
You can even take back with you the Co-mati – A Piece of Greece experience at Montofoli Wine Estate HERE!